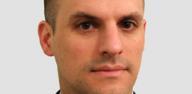 Associate Professor & Vice Chair for Research, Depts. of Radiology & Pathology
Univ. Illinois at Chicago
Ron C. Gaba, MD, FSIR, is an Associate Professor in the Division of Interventional Radiology (IR) and Vice Chair for Research within the Department of Radiology at University of Illinois Health; he also holds an appointment as Associate Professor within the Department of Pathology at University of Illinois Health. Dr. Gaba earned his medical degree from the University of Michigan in 2002, completed a Diagnostic Radiology residency at the University of Illinois at Chicago in 2007, and trained in Vascular and Interventional Radiology at Northwestern University in 2008. He joined the University of Illinois Health Department of Radiology in 2008 and has practiced there since, where he has been active in clinical service and patient care, trainee education, and clinical as well as preclinical research.
The long-term objective of Dr. Gaba's translational research lab is to improve the prognosis of patients with liver malignancies through the use of image-guided, minimally invasive locoregional therapies in IR. Lab research interests span large animal models (the Oncopig Cancer Model) of liver disease and liver cancer (hepatocellular carcinoma, HCC), Interventional Oncology and innovative drug delivery approaches, and genomics. Current projects span in vitro and in vivo (mouse and pig) alcoholic liver cirrhosis and HCC development and characterization; preclinical (in vitro) screening and testing of novel chemotherapy agents as well as device based therapeutics; human cirrhotic liver and HCC genetic, transcriptomic, and epigenetic sequencing; in vivo (rabbit) quantification of cytotoxic/cytostatic drug delivery using innovative agents. Planned research will include investigation of driver mutations in liver cancer through genome editing.
The lab has a solid track record for extramural funding (currently supported by the United States Department of Defense and medical industry), academic productivity (with more than 140 peer-reviewed literature publications), and mentorship (more than 60 mentored undergraduate, medical, graduate, and post-doctoral trainees). Our group works in an approximately 2500 square foot, recently renovated and fully equipped laboratory space in the Incubator Laboratory Facility on the University of Illinois at Chicago campus.